WinZombies comes to you from the creator of Horror Hype Blog, a site which covers all things horror related that is also a great source for news and reviews of new horror films, books, and games. The WinZombies program draws zombies that crawl around your desktop, climb your windows, fall off and explode. According to its creator, the program is based on WinPenguins by
Michael Vines (who did all of the hard work), but with substituted animations from MSlugDB. The
WinZombies
program is still in Beta and the creator is still planning updates, including adding more zombie types and even possibly some sound effects. Until then, this is a still of the current incarnation of WinZombies: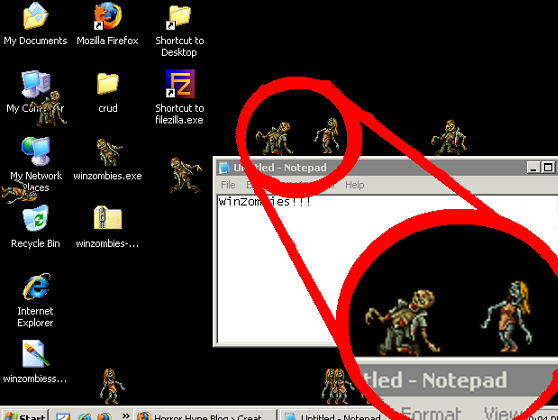 You can download
WinZombies
by left clicking HERE
and saving the program to your desktop or wherever you want it to go. If you have any difficulty opening WinZombies on your computer or you think you might be able to contribute to the programs further development, see the original WinZombies post on Horror Hype for further instructions.